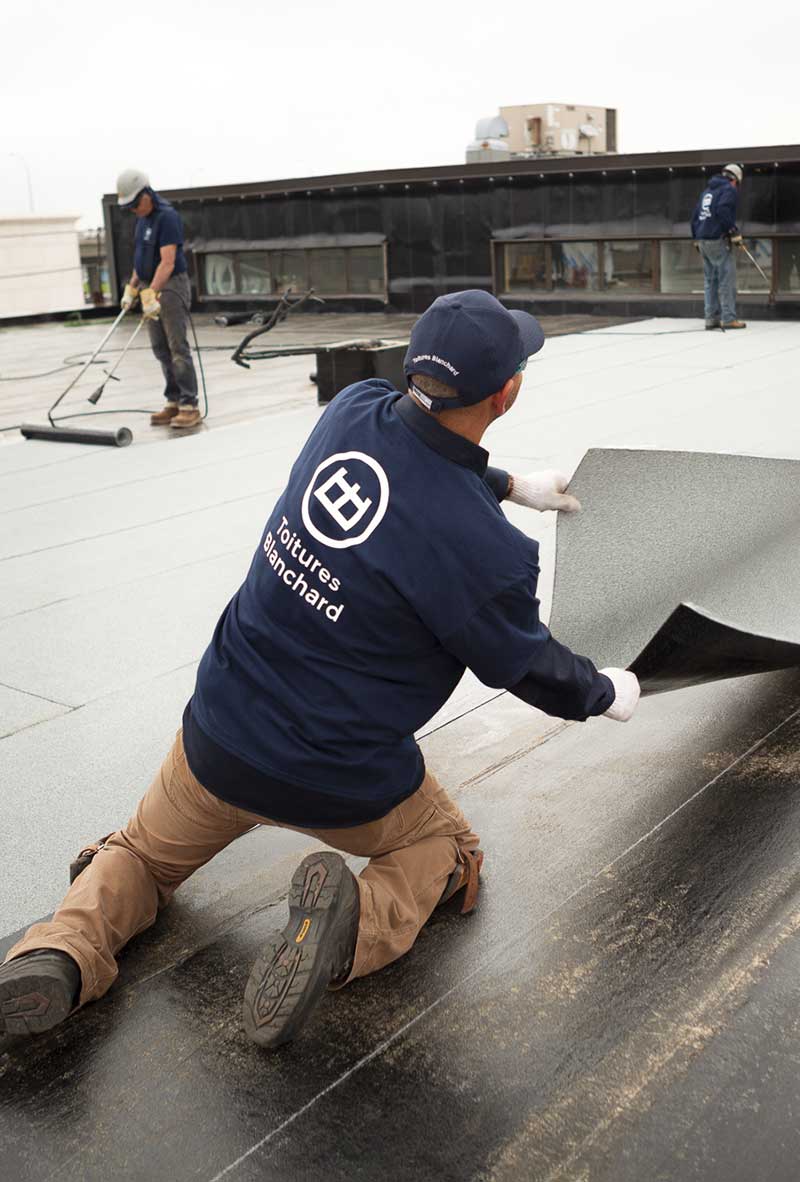 Toitures Blanchard's story
In 1989, Sylvain is working for a roofing contractor in Laval. Those years are difficult. There's not much work for a lot of workers. Every morning, teams are built by seniority. The workers are aligned and picked one by one until each team is complete. Those who aren't chosen have to go back home and wait until the next day.
Sylvain Blanchard works on every type of roof, but mostly on shingle roofs. Another contractor is looking for volunteers for a church steeple. His workers refuse to go up 150 feet high in the middle of December. Sylvain accept the job and offer to work as a subcontractor; the company Les Couvertures Blanchard & Fils is founded.
In 1990, the owner of a private residence asks for roofers who can install a membrane that's coming from France. Sylvain tries many times on a mobile-home until the fusion point is mastered. The job is done with a representative of the manufacturer who is pretty satisfied.
Les Couvertures Blanchard & Fils sees the great potential of the elastomere membrane for its durability and quality.
Les Couvertures Blanchard & Fils decides to offer the elastomere membrane to his customers. They also improve their techniques and form teams as elastomere membrane installers.
In 1998, the elastomere membrane stands out from other waterproofing systems for its resistance to ice, its 65% lighter weight than tar and gravel and its resistance to elongation which will avoid deicing the roofs who has this system.
The demand for elastomere membrane continues to grow every year. Les Couvertures Blanchard & Fils becomes a proud member of the Quebec Master Roofers. Sylvain Blanchard first holds a position in the technical committee then in training, ethical committee and finally he access the board of the association. In 2013, Sylvain Blanchard becomes the President of the Quebec Master Roofers Association.
Les Couvertures Blanchard & Fils was honored with the award for residential warranty, which means quality of work from 2006 to 2018.
In 2009, Couvertures Blanchard & Fils wins the 3rd place as Quebec best small enterprise. In 2012, the company wins the first place.
In 2014, Les Couvertures Blanchard & Fils changes its brand image for Toitures Blanchard.
Toitures Blanchard is a leader in residential, multiplex and condominiums roof refection and with a good recognized reputation.
Toitures Blanchard is a family business with builders who always give the best of themselves. Succession is strong and competent. Bruno, Michel and Philippe share their interest to Sylvain and Anick in continuing the reputation of the company for many years.
This team is Bruno Ladouceur, a faithfull builder and teammate of Sylvain Blanchard since 1998; Michel Hénès, a faithfull team leader for the past 16 years and who always want to offer quality; Philippe Brunet, faithful team leader who seeks to optimize each operation and always give the best of himself.
In 2019, after 30 years in service for Toitures Blanchard, Sylvain Blanchard and Anick Alarie make the transition with a succession plan for the team that becomes the new direction of Toitures Blanchard.
In April 2019, Bruno Ladouceur, Michel Hénès and Philippe Brunet buy the company with the objective of continuing the reputation of quality acquired over 30 years and reinforcing our slogan : Our success, quality!
We are very proud and salute the courage to develop the entrepreneur who is in each of the new owners.
Congratulations!
Sylvain Blanchard & Anick Alarie
Our Success... Quality!
Satisfaction Guaranteed